Nelson Mandela has devoted his entire life to humanity as a human rights lawyer, a prisoner of conscience, an international peacekeeper, and the first democratically elected president of South Africa. He was also awarded the Nobel Peace Prize in 1993 because of his struggles for humanity and also for the promotion of peace.
The UN General Assembly declared 18th July as Nelson Mandela International Day (Resolution A/ RES/64/13).
This decision was taken primarily to:
(i) Recognise the leading role of Nelson Rolihlahla Mandela and his support for the struggle of Africa for liberation and unity and also to recognize his outstanding contribution for non-racial, non-sexist, and democratic South Africa;
(ii) Recognise his values and his services towards humanity in various fields and also for the upliftment of poor and underdeveloped communities;
(iii) Acknowledge his contribution towards the struggle for democracy internationally and promotion of the culture of peace in the world;
(iv) Welcome the international campaign of Nelson Mandela Foundation and other organization
(v) Recall endorsement by heads of state and government for observance of 18th July as Nelson Mandela International Day
The United Nations Standard Minimum Rules for the Treatment of Prisoners were adopted by the United Nations General Assembly vide resolution A/RES/70/175. It was also approved that these rules should be known as the "Nelson Mandela Rules" to honor the legacy of the late President of South Africa, who spent 27 years in prison.
Audrey Azoulay, Director-General of UNESCO on the occasion of Nelson Mandela International Day-
"In his legendary speech delivered at the Rivonia Trial in South Africa in 1964, Nelson Mandela said, "I have cherished the ideal of a democratic and free society in which all persons live together in harmony and with equal opportunities. It is an ideal that I hope to live for and to achieve. But if needs be, it is an ideal for which I am prepared to die". His mission as an anti-apartheid revolutionary was to establish equality and freedom for all women, men, and children. He stood for the fundamental rights of all human beings, regardless of gender, nationality, or race. This is also the very ideal for which Nelson Mandela was jailed for 27 years. Despite his imprisonment, Nelson Mandela continued to believe in these ideals, and upon his release, continued to put them into practice."
GAJE and Roya Institute for Global Justice also celebrated Nelson Mandela International Day virtually.
Distinguished Speaker of the event is Prof. David McQuoid-Mason, who knew and worked with Mandela. The topic of his remarks is: 
"Nelson Mandela: The International Human Rights Icon and the Man behind the Icon – Some Personal Reminiscences,"
The program will close with a tribute to David's 50 years as a pioneer in clinical education, streetlaw, and social justice efforts in many parts of the world.
For more information click here and here.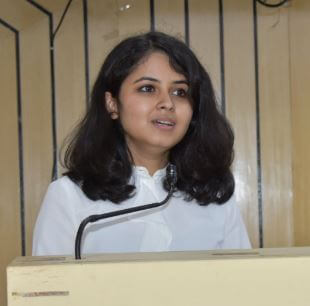 Mahak Rathee
Global Representative (India) Roya Institute of Global Justice